I've started reading I Will Teach You To Be Rich
 and the first chapter about credit made me want to check out my credit score. Suze Orman also recommends that you check your FICO score and work to make it better. Since most financial experts suggest you should know your FICO score I decided to find out my credit score.
Why is your credit score important?
Like Ramit and Suze mention in their teaching materials, your credit score is very important. Unfortunately, too many people have no idea what their credit score is. They don't know how to check their credit score so they have simply ignored the issue. I admit that I previously fell into this category because I simply did not know how important it was or that I could get my free credit score easily online at Credit Sesame.
Knowing your credit score and credit history are important for using them to your advantage. Having a high credit score can help you get lower interest rates on your home loan or car loan. An excellent credit score will get you a 2% car loan versus a 25% car loan that someone will bad credit will get. (Sadly, this does happen and is something I witnessed at a car dealership.) You can also get denied for loans entirely if your credit score is low enough.
By knowing your credit score you can take the proper steps to improve it. This means you can improve your length of credit history, credit utilization, history or paying on time and more to raise your credit score. Getting your free credit score and starting this process is the first step to improving your score and your financial life.
Credit Sesame Review
Offers for free credit reports can be very sketchy since there are a lot of companies out there that take advantage of people who need to improve their credit. That's why I and other personal finance bloggers recommend Credit Sesame for checking your credit score for free.
If you need to check your credit score for free, then Credit Sesame might be right for you. Credit Sesame does not ask for a credit card upfront so they won't charge you for getting your credit score for free in the beginning.
Credit Sesame works by using the Experian National Equivalency score. This is similar to the FICO score which is what lenders look at when deciding to give you a loan and what rate that loan should be. You can see how your credit score is displayed by the example of mine to the left. It shows you your credit score and where you fall in the list from poor to excellent.
Credit Sesame doesn't charge you for your credit score because they make money by showing you different loans you will qualify for. When you click through on those links Credit Sesame makes money from that. You are under no obligation to do so and can just use the service for your free credit score. Then if you see a loan that is a really great deal you can always go through that link to support the good service offered by Credit Sesame. It's really a win for everyone!
Checking your credit score with Credit Sesame won't hurt your score because it's a soft pull instead of a hard pull like the kind a lender does. It doesn't hurt your credit score, it gives you the knowledge you need, and it can potentially help you raise your score and save you thousands of dollars in interest in the long run. Why would you not check your credit score for free at Credit Sesame?
If your are interested in using this free service and getting your FREE credit score at Credit Sesame click here. It's free and a great way to know your credit score. Just ignore the extra offers and decline to pay for side offers because that is not necessary!
My Credit Score & How It Affects My Life
When I originally wrote this post I checked my credit score and it is 663. That put me firmly in the GOOD category of credit scores.
Your Equifax FICO® score is good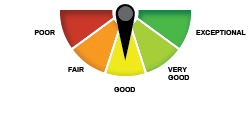 Yay! It's not great but I'm happy to be in the good category. It breaks down this way:
Your history of paying bills on time: VERY GOOD
Your total amount of outstanding debt: VERY GOOD
Length of credit history: NOT GOOD
Amount of new credit: GOOD
Basically I'm doing good on everything except the length of history. I can't do much with that besides wait it out. That's fine because we don't plan to buy a house for another 5 years so by then my credit score will have gone up quite a bit. Just waiting it out will help us get a better interest rate when we finally are ready to get a mortgage. I'm glad to know I'm on a good track.
I also found out that I still have two credit cards open that I had completely forgotten about including one store card. I don't know what I will do about those. I might close the store card and just leave the other open now that I know about it. I'll have to think about that a bit.
I'm on a good track now and in five years or so things should be great. I'm glad to know I'm on the right track!
My Updated Credit Score
Update: I originally wrote this post two years ago and have since done everything necessary to raise my credit score to the excellent range which I checked via Credit Sesame.
My credit score went from the GOOD category to the EXCELLENT category of credit scores. There is nothing negative on my credit report and I am seen as a responsible credit user.
This means I got a great deal on a car loan recently with a low interest rate and was approved for a mortgage loan as well. It's true that having a great credit score is very, very important. I've included a review of Credit Sesame  below because I've found it very useful in monitoring my credit score in order to improve it!
Get Your FICO Credit Score
It's highly recommended by financial experts that you know your credit score. It's the number many companies use when determining whether you are able to get a loan and what interest rate you should be charged. Having a higher credit score will make your life easier and save you from paying hundreds or thousands in interest.
Below are a few options for getting your credit score and monitoring it for accuracy and improvement:
Once you know your credit score you can work on improving it by doing all of the things that make your FICO score better: paying bills on time, having a long credit history, having low balances to high credit, etc. It helps to know what your score is so you know where you are and how much you need to improve.
Join me in getting your free credit score and improving it!
Disclosure: This post contains affiliate links and I will be compensated if you make a purchase after clicking on my links.